Water Damaged Records? We can help!
Australia's eastern states are currently experiencing a catastrophic rain event after a year of extremes, devastating bushfires followed by higher than average rainfall and flooding. We have seen an increase in enquiries as a result of these extreme weather events – specifically for water damaged paper files.
Some enquiries have been pro-active, with customers putting in place measures to eliminate the risk of physical damage to their client's paper files by digitising all records. Unfortunately, some customers weren't so fortunate.
Our team has recently provided remedial digitisation services to customers with water damaged and mould affected records.
HOW DO WE GO ABOUT THE SCANNING OF PHYSICALLY DAMAGED RECORDS?
Our preference is to inspect the materials as soon as possible and provide an appraisal of what can be salvaged and digitised. There are a number of methods and specialised equipment available to our team for the preparation and scanning of water damaged records. In most cases, we can find a way to digitise while maintaining the integrity of the original documents.
After inspection of the damaged records, we will provide a quotation and scope of work within 24 hours and offer a priority service to collect the damaged records within 2 days of quote acceptance.
A fast response is vital as mould spores can germinate and spread in a matter of days depending on the environment. Warm, dark and damp conditions with little air circulation will see mould flourish. Paper records will show stains and possibly growth of furry fungi on surfaces. The paper will become fragile and must be handled carefully to minimise further damage.
Mould affected areas can also cause irritation to human skin, eyes and respiratory system, therefore, it is mandatory to wear Personal Protective Equipment (PPE) equipment when working in these areas.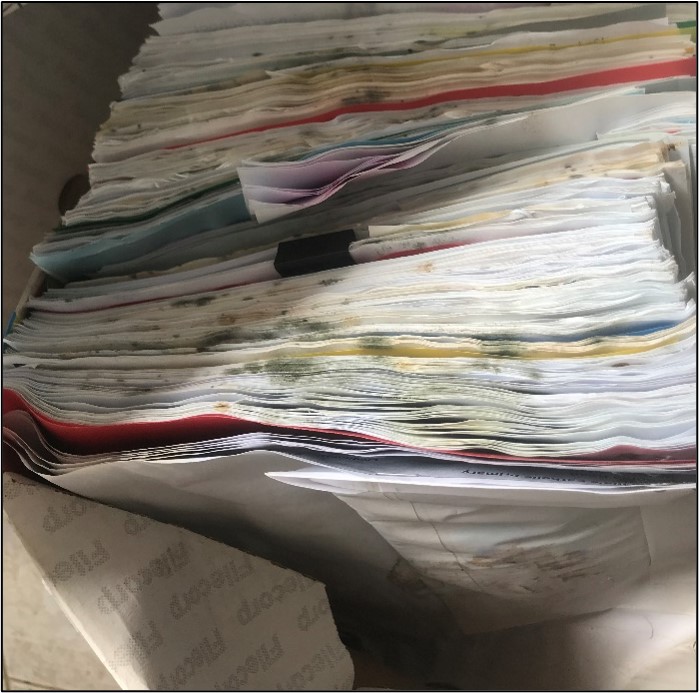 During the days between our quote submission and approval to proceed, we strongly recommended our customers (if safe to do so) to move the water and mould affected records to a dry area where humidity and temperature can be controlled (preferably below 21⁰C and below 60% relative humidity) with good air circulation.
The area should be clean with minimal dust and isolated from other records. Once approved to commence work, our team begin the process immediately.
DIGITISATION OF WATER DAMAGED RECORDS
The following steps are carried out for the safety of staff and the most effective transformation of records into digital files:
Project risk assessment carried out and Safe Work Method Statement provided before commencement of work.
Files affected by mould are packed into protective plastic bags and then into standard archive boxes.
Box exterior walls wiped down before being transferred to the transport vehicle.
Files are moved from contaminated area to the transport vehicle during a time of minimal impact to staff and clients at the premises.
The following protective (PPE) clothing is worn by staff packing files:

Disposable Coveralls with Type 5 particulate protection
Disposable respirators (Class P2 particulate filter)
Disposable Nitrile protective gloves
Protective eyewear
Covered protective footwear

Files affect by mould are prepared in a humidity and temperature-controlled quarantine area at our scanning facility.
PPE clothing is always worn when working with mould affected files.
File handling, preparation and digitisation is carried out as a priority to minimise further water / mould damage.
Preparation, handling and scanning areas to be de-contaminated post digitisation.
Provision of current insurance certificates for Public Liability, Professional Indemnity and Workers Insurance.
DELIVERY OF DIGITAL FILES
At the conclusion of the project, digital files are delivered by secure online links or on encrypted portable hard drives.
Inclusive of the project scope, Gosford Micrographics and Scanning can securely destroy the original paper records. This occurs generally 6 weeks after delivery of digital files (pending customer approval). Destruction is carried out by a NAID AAA Certified on-site shredding service and a certificate of destruction is provided to the customer.
If you are planning to digitise your paper records or have suffered unexpected damage to your valuable archives, contact our team today on 02 4389 8066 or gosinfo@gosmicro.com.au for a professional, fast and affordable digitisation solution. With over 35 years in the industry, Gosford Micrographics and Scanning is Australian owned and operated and Quality Accredited and Audited to AS/NZS ISO 9001:2015 standards.
To ask about our services